This is an archived article and the information in the article may be outdated. Please look at the time stamp on the story to see when it was last updated.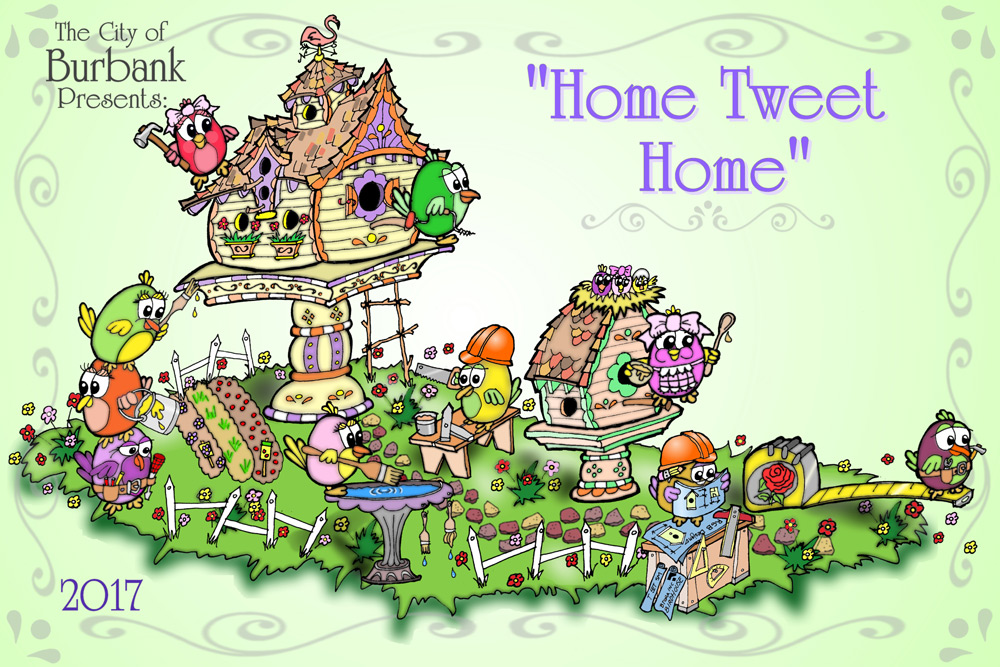 Dimensions: 30'H x 18'W x 44'L
Float Title: Home Tweet Home
Float Theme
Chester and Florence Chirpington have just had triplets, Molly, Polly and George. During this process, they realized that their current abode was too small for the growing family, so they decided to build a new house. Knowing that success comes from teamwork, many of their family and friends have turned out to help build the new home. Richard Beeks, the architect has grand plans and Floyd Feathers, from Feathers Custom Homes is the General Contractor to make sure it gets built successfully. Garry, our bird friend, on the moving tape measure, is named in honor of Garry Marshall, who rode on our Lights, Camera, Action Float in 2013. Our winning designer this year is again Richard Burrow, an architect from Mission Viejo. This is the second float that he has designed for Burbank and our bird architect is named for him. When family and friends come out to help the Chirpingtons to build their new home, including Richard Beeks, the architect and Floyd Feathers from Feathers Customs Homes, success is created by the teamwork of the group working together to get the new home built.
Flowers/Materials used
Dried Materials: onion seed, flaxseed, poppy seed, lettuce seed, brown caraway seeds, coffee husks, cocoa shell, sweet white rice, white rice, coconut, parsley, dill, split peas, lentils: red and yellow, seaweed, crate myrtle, melaleuca bark, Canary Island pine needles, crushed walnut shell, cranberry seed, steel cut oats, eucalyptus pods, dried statis in white, light blue, dark blue and purple. Fresh Flowers: cushion mums, button mums, carnations, marigolds, irises, gerberas daisy, and roses. Greenery: umbrella ferns and explosion grasses, sheet moss, sod/grasses. Fruit and Vegies: purple kale, real pumpkins, oranges and cilantro.
All text and information courtesy Pasadena Tournament of Roses.