This is an archived article and the information in the article may be outdated. Please look at the time stamp on the story to see when it was last updated.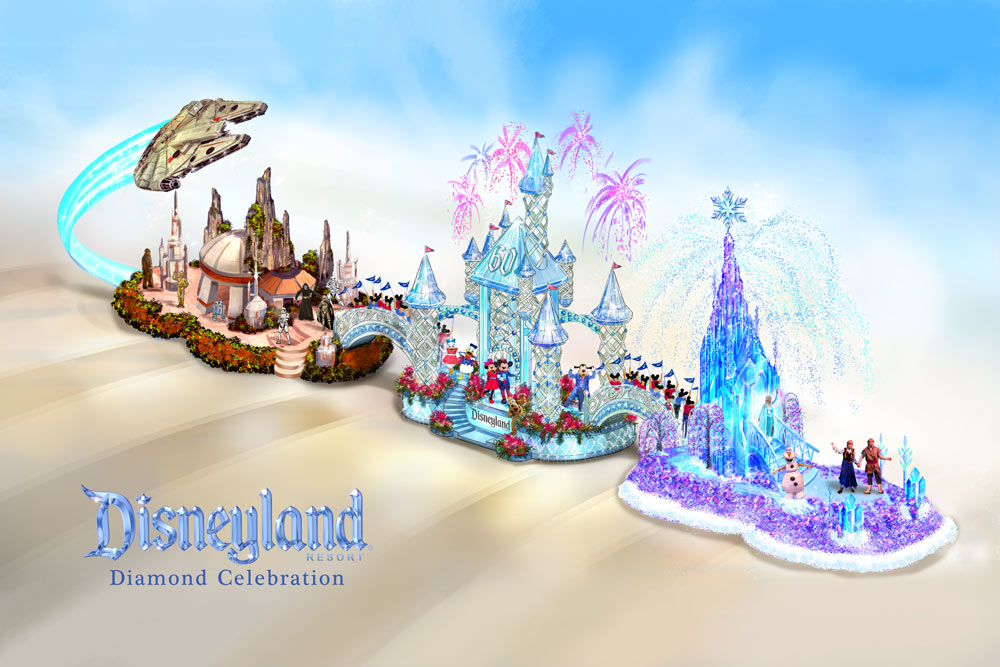 Dimensions: 36'H x 11'W x 166'L
Builder: Artistic Entertainment Services
The Disneyland Resort celebrates 60 dazzling years with a float honoring some of the most exciting adventures that await guests at the Happiest Place on Earth! At the heart of the float will be a sparkling recreation of Sleeping Beauty Castle, complete with Mickey Mouse and Minnie Mouse welcoming everyone to the Disneyland Resort Diamond Celebration. Flanking the castle are two adventures that are brought to life at the Disneyland Resort. The first comes from the world of "Frozen" and depicts Elsa's ice castle – straight out of Arendelle – accompanied by Anna, Elsa, Olaf and Kristoff. A separate adventure depicted on the float makes the jump to hyperspace and travels to a galaxy far, far away for a thrilling adventure dedicated to the Star Wars films and exciting new Star Wars experiences at Disneyland Park. A total of 60 riders and walkers will accompany the float, including children who will wave to the crowd from the float's bridges.
Materials: The Frozen ice is made up with blue statice, ice blue coconut, silverleaf, lunaria and button mums. The deck consists of lavender and hot pink roses with a white iris trim. Sleeping Beauty Castle has 250 diamonds made from white coconut, blue statice and silverleaf. The deck has red roses, pink lilies and purple liatris. The Star Wars themed section has mountains made from gold, bronze and rust mums. The machines around the landscape consist of silverleaf, cornhusk and poppy seed. The Millenium Falcon soars with flax seed, carnations, strawflower and seaweed. The landscape has cymbidium orchids, dendrobium orchids, orange lilies and rare foliages. An estimated 650,000 flowers were used in the decoration of this float.
The Disneyland Resort features two spectacular theme parks – Disneyland, which is home to new Star Wars experiences at Season of the Force, and Disney California Adventure Park, where guests may encounter Anna and Elsa from the world of "Frozen," and enjoy a new live stage production of "Frozen" beginning in summer 2016. The Resort also includes three hotels and the Downtown Disney District, comprising unique dining, entertainment and shopping experiences.
All text and information courtesy Pasadena Tournament of Roses.