This is an archived article and the information in the article may be outdated. Please look at the time stamp on the story to see when it was last updated.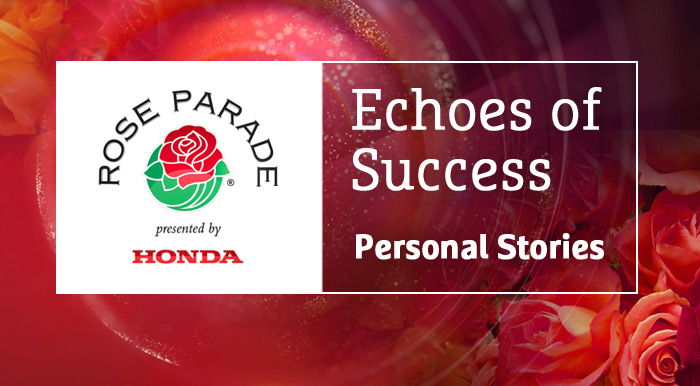 This year's Rose Parade theme is "Echoes of Success". We'd like to hear your success story: Tell us who inspired you to be the person you are today.  Submit your story below; we'll be presenting selected stories here on KTLA.COM to share with the broader Rose Parade family (scroll below the form to read stories).
See stories of inspiration from Leeza Gibbons, Micah Ohlman, Chris Burrous and Lynette Romero.
My Daughters. Life saving cancer surgery I had Dec 28th 2015, then Chemo and Rads a few months after. I did it so that I could be here today watching my daughter grow into beautiful women. My oldest took up violin this year, and Japanese language, my youngest has been blossoming into and incredidible artist. I succeeded life in 2016, now I am still here in 2017 to see my daughters succeed in life and I am excited to see how far they will go.
-Amber S., Adelanto, CA
---
My dad was my role model. He inspired me to always do your best and always give back. He gave of himself everyday going to work and providing for our family. He told me to chose a career I would love getting up every morning and wanting to go to work and make a difference. I did that and chose to be a PE Teacher and Coach. To give the skills and athletic ability I was given to the young athletes I could share my talent with them to also encourage and I still in them that hard work and dedication will carry you to your goals. In between my teaching career I did give 33 years to the LACoFD and communities I loved serving everyday. Now at 60 years old I thank my parents for their guidance and leadership. Being a single dad with 3 boys I am teaching them the same hard work and desire to be a leader and make a difference in not just your life but in a life a another.
-Jerry T., Stevenson Ranch, CA
---
I am one of six siblings who grew up in a working class hispanic family. My father was a Mexican immigrant who taught me hard work and my mom who taught me that I was equal and not less. I also attribute who I am to Mrs. Ford, a 7th grade Speech Teacher, who recognized my extreme shyness and delicately brought me "out of my shell." At 18, I had a great boss who encouraged that I attend college and even offered to fund my tuition. Receiving such encouragement inspired me to do it on my own. I finished my college education in 1984. Put these great leaders together in my life, among other teachers, and you get who I am today. I'm a 58 year old accomplished woman who is spiritually grounded with purpose and love in my life. I'm in a position of giving back and I strive to help children have the same opportunities that I was given.
-Irma R., Mission Viejo, CA
---
Who inspired me today to become the person I am with my high school marching band. Before I entered High School I used to be a shy and quiet girl who always sits in the corner of the class and not really talk to anbody, but ever since I entered high school and joined the marching band inspired me to be something different I am the total opposite of me back in middle school. So thank you Birmingham Community Charter High school Patriots Marching band for inspired me to how I am today.
-Diana R., Van Nuys, CA
---
My students, past and present continue to inspire me to become a better teacher each and everyday! My students' efforts and resiliency demonstrate that success is attainable. They face challenges and barriers that are often insurmountable, yet my students continue to forge forward to change their lives and the lives of their families. My students have become successful members of their communities surpassing their goals by continuing their education. When I think of this year's Rose Parade theme, the echoes of success, I appreciate the role teachers have in helping others attain success.
-Alicia S., Glendale, CA
---
Music teachers. I became an accomplished singer/songwriter and have sung with folks like Melissa Manchester and Josh Groban. I crowd-funded a Christmas album nit knowing if anyone would contribute and 77 people donated nearly $5,000 enabling me to work with top rate musicians and create "From Here to Nativity", a collection of 7 original and 7 traditional carols that take the listener on an eclectic musical journey from Christmas advent through Christmas Eve, Christmas Day, and on to Epiphany. It enabled me to combine my love of music with my love of Christmas and all the things I learned from my passionate and talented music teachers through the years. Music changes lives and I received messages from all over the world sent by people who were moved by the songs and performances on the album. It was the loveliest endeavor of my life and I am forever grateful to all who made it possible, and a success.
-Johnny S., Los Angeles, CA
---
Throughout all my years of effort and success, my parents have been my main supporters and believers. Thanks to them I am the professioinal that I am today, a school psychologist. I Thank my parents for all that they have done for me and for all the support they have provided me to be who I am today!
-Rocio H., Hawthorne, CA
---
My family inspired me especially my cousin Lluvia. Right now we are not talking but she's with me either way, she has been there for me every step of the way, I think about her each and every day because she is bright and believes in a lot of things. She knows when to get back up and try again. I don't know where I would be without that unconditional love. I love her very much and hopefully we resolve our issue and become one, again. I love you Lluvia!!! Thank you and Happy New Year.
-Adan S., Santa Ana, CA
---
My parents, now passed on, were my biggest inspiration. They both sacrificed to ensure I and my sister got excellent educations, including college. They were motivated by not getting that education themselves – my father was able to finish high school, but my mother got only an 8th grade education. I am especially proud to say that as a result of their inspiration, I am an Occupational Therapist and worked on the beautiful float in the parade today commemorating my profession's 100th anniversary. They both taught me skills that I use in my profession now – sewing, embroidery, woodworking and using all kinds of tools. My dad especially was a role model for the importance of learning; he tried to teach himself a new vocabulary word everyday and often advised me to do something with my life that would give it meaning. Interesting that I am now working in a profession that helps people perform the activities in their lives that have meaning and purpose for them! I have continued the tradition of encouraging higher education – my daughter is now a college freshman studying engineering. My parents would be so proud of her!
-Donna P., North Hollywood, CA