This is an archived article and the information in the article may be outdated. Please look at the time stamp on the story to see when it was last updated.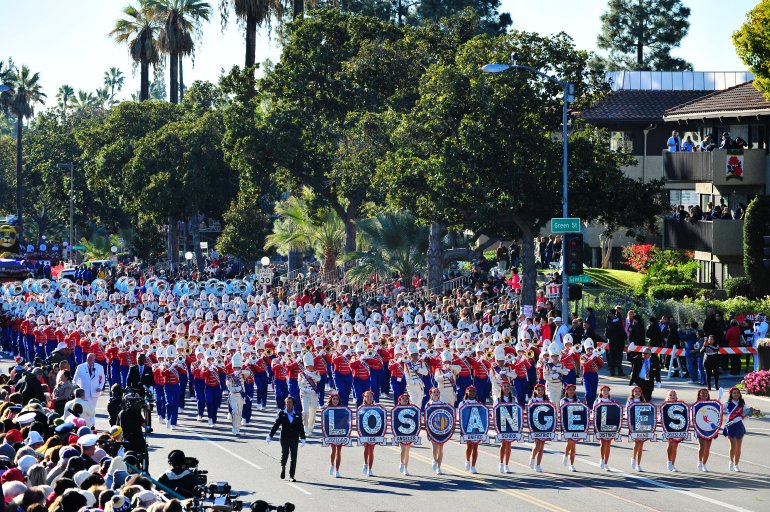 Marching bands from around the United States and all over the world will be featured during the Rose Parade presented by Honda on Jan. 1, 2020.
If you can't be in Pasadena to cheer on your hometown band, don't worry, KTLA has you covered.
On New Year's Day, in addition to our regular livestream of the entire Rose Parade, we will be live streaming a separate video feed that focuses on the bands. It's the KTLA 5 Band Cam, presented by Blue Shield of California.
To watch the KTLA 5 Band Cam, visit the KTLA 5 News Facebook page on New Year's Day, starting at 8 a.m. PT / 11 a.m. ET.
We will also feature the KTLA 5 Band Cam on our website at KTLA.com.
Bands featured this year include:
USMC West Coast Composite Band
Rancho Verde High School, Moreno Valley, California
Japan Honor Green Band
Owasso High School, Owasso, Oklahoma
Helsingør Pigegarde, Denmark
Pasadena City College herald Trumpets and Honor Band, Pasadena, California
University of Wisconsin Marching Band, Madison, Wisconsin
University of Oregon marching Band, Eugene, Oregon
Centro Escolar Ninos Heroes de Chapultepec, Mexico
Baldwinsville Marching Band, Baldwinsville, New York
Banda Municipal de Zarcero, Costa Rica
Alhambra Unified School District Marching Band, Alhambra, California
Greendale High School Marching Band, Greendale, Wisconsin
Pearland High School Marching Band, Pearland, Texas
University of Puerto Rico, Mayaguez Campus
Kamehameha Schools Kapālama Warrior Marching Band, Honolulu, Hawaii
Southern University and A&M College Marching Band, Baton Rouge, Louisiana
Dobyns-Bennett High School Marching Band, Kingsport, Tennessee
Banda El Salvador, Grande como su gente
West Harrison High School Hurricanes Marching Band, Gulfport, Mississippi
The Salvation Army
Los Angeles Unified School District, Los Angeles, California