This is an archived article and the information in the article may be outdated. Please look at the time stamp on the story to see when it was last updated.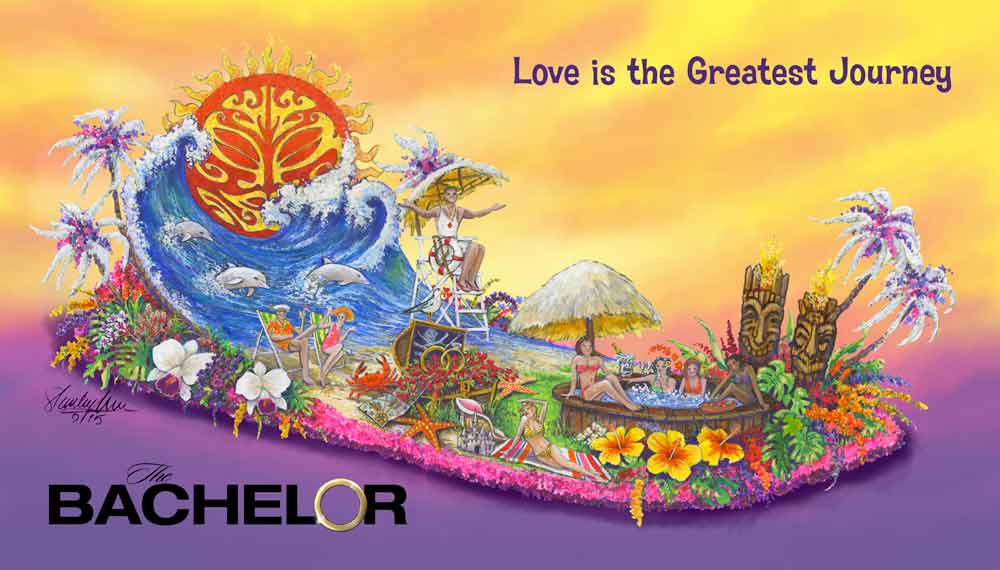 Dimensions: 22'H x 18'W x 55'L
Builder: Fiesta Parade Floats
In anticipation and celebration of Season 20, The Bachelor reality television series will again inspire love through flowers with the final outcome of presenting a single red rose in a proposal of marriage. But first comes the most anticipated highlight of the season — the romantic fantasy adventure date on an exotic tropical beach. Almost as iconic as the red rose and hot tub, the fantasy adventure date has come to define the Bachelor experience for viewing audiences. Bachelor Ben Higgins takes center stage sitting on the lifeguard stand. Magnificent visions of crashing floral waves, lush white sand beaches, floral-perfume trade winds and swaying palm trees come radiantly alive and the perfect fantasy adventure setting for The Bachelor. A working hot tub is the ideal place for couples to relax and enjoy this topical paradise with a stylized glowing sun as the backdrop. Shimmering dolphins frolic in the warm waves of floral waters with intricately decorated sea-life completing the ocean setting. A magnificent treasure chest, cascading with red roses, holds the custom-designed wedding rings. Carved tiki figures, sculptured Cattleya orchids and colorful yellow hibiscus frame this phenomenal tropical setting.
Materials: The romantic and adventurous locations for The Bachelor's "Fantasy Date" are always anticipated and usually take place on far-away tropical beaches. The warm sun and cool ocean breeze completes this floral adventure. Floral waves of white Akito roses, dendrobium and Phalaenopsis orchids and light and dark blue iris, delphinium, sinuata statice and hydrangea blossoms sets the playground for the shimmering dolphins created from silverleaf protea leaves. Sea crabs, sea shells and starfish have been decorated from lentil and split pea beans, pecans, cranberries individually placed side by side to simulate patterns on the back of their shells. Yellow strawflower and orange marigold petals create the colorful sculptured hibiscus flowers with centers of solid red roses. Sculptured Cattleya orchids have been crafted from crisp white coconut flakes, purple sinuate statice blossoms and yellow strawflower petals. An oasis of graceful sculptured palm trees, decorated in white coconut flakes, with lavish floral centers of purple dendrobium and mokara orchids, cascade over lush floral gardens of over 10,000 hot pink Princess roses. The rose gardens ramble through colorful tropical gardens created from thousands of specialty anthuriums, cypripedium and hybrid vandal orchids. Kimi, Curcuma and Torch ginger, King and Pink Mink protea, along with Augusta, Bihia, Lobster Claw, Pagoda and fuzzy King Kong hanging heliconia complete this tropical paradise.
The Bachelor is an unscripted television series that has been inspiring love and bringing true love stories to millions of viewers for over 12 years. Along with The Bachelorette, this pop culture staple has been encouraging romance & roses for over 30 seasons. Hosted by Chris Harrison, The Bachelor is produced by Next Entertainment in association with Warner Horizon Television. The Bachelor series airs in over 200 countries world-wide.
All text and information courtesy Pasadena Tournament of Roses.