This is an archived article and the information in the article may be outdated. Please look at the time stamp on the story to see when it was last updated.
Actor Gary Sinise was named grand marshal of the 2018 Tournament of Roses Parade at the Tournament House in Pasadena Monday morning.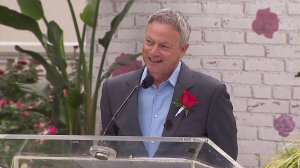 Sinise, an Academy Award nominee for his role as Lt. Dan in "Forest Gump" and a distinguished humanitarian, was born in Blue Island, Illinois.
During Monday's ceremony, Sinise recalled growing up watching the Rose Parade from his home in "very, very cold" Chicago and being jealous of those in attendance. "And now here I am all those years later as the grand marshal of the 2018 Rose Parade. This is just amazing," Sinese said.
He then quoted the famous "Forest Gump" line, "Life is like a box of chocolates. You never know what you're going to get."
As grand marshal, Sinise will ride in the 129th Rose Parade on January 1, which is themed "Making a Difference."
The theme is a tribute to Rose Parade volunteers, and to volunteers helping others across America, Tournament of Roses President Lance Tibbet said.
Sinise's duties will also include pre-game festivities, including the coin toss, for the 104th Rose Bowl Game later that day.
Among his charitable contributions, Sinise founded the Gary Sinise Foundation. The organization serves our nation by honoring our defenders, veterans, first responders, their families, and those in need, according to the website.
Sinise also serves on the president's advisory group for the Medal of Honor Foundation, and he is on the advisory council of Hope for Warriors, which provides care for combat wounded veterans and their families, Tibbet said.
Earlier this month, Isabella Marie Marez, a resident in Altadena and senior from La Salle High School in Pasadena, was selected named as the 2018 Rose Queen.
Marez became the 100th young woman to hold that role.