This is an archived article and the information in the article may be outdated. Please look at the time stamp on the story to see when it was last updated.
The Los Angeles Dodgers' longtime announcer Vin Scully will lead the 2014 Rose Parade as the grand marshal, the Pasadena Tournament of Roses announced Thursday.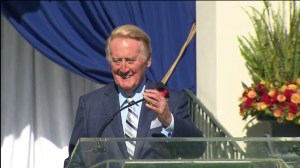 The legendary broadcaster joins the ranks of dozens who have served as the leader of the annual event in Pasadena, ranging from Frank Sinatra to Richard Nixon.
Speaking at the announcement ceremony at the tournament's Orange Grove Boulevard house in Pasadena, Scully recalled riding in the parade on a Dodgers float, saying it reminded him of the sound of the crowd he heard when listening to football games on the radio as a boy.
"That turn, when you suddenly start going down Colorado, it's like going through a canyon of people, not walls of stone. And the crowd begins to roar at the floats, and there I am, once again, 8 years old, curled up under the radio," Scully said. "It's a remarkable experience. I'm humbled over the thought that I will experience it again as the grand marshal."
Until its announcement, the name of the grand marshal is a secret closely guarded by the tradition-rich Tournament of Roses each year.
The marshal rides in the New Year's Day parade and tosses the coin before the Rose Bowl Game, which on Jan. 1 will mark its 100th anniversary.
Thursday's announcement was made by Tournament of Roses Association President Scott Jenkins at an event that featured the tune "Take Me Out to the Ball Game" and boxes of Cracker Jack.
"The two most outstanding characteristics of our grand marshal, and the prime reason I chose him, are his humility and his integrity," Jenkins said.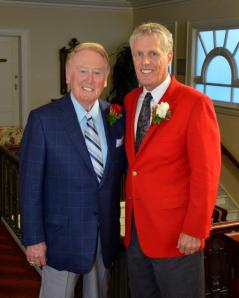 Hall of Fame broadcaster and sports icon Scully, 85, began his career with the Brooklyn Dodgers in 1950. He came with the team to Los Angeles in 1958.
Scully co-hosted the Rose Parade in the late 1960s, Jenkins said.
Scully's wife Sandra will ride in the parade with him, Scully said. He plans to focus on appreciation for local sports fans between now and Jan. 1, he said.
"I want to use that opportunity, from the bottom of my heart, to thank the sports fans of Southern California," Scully said. "They have been so good, so supportive, so friendly and kind that I am overwhelmed with gratitude."
The Tournament of Roses' 2014 parade — the 125th — is themed "Dreams Come True."
KTLA is a media partner of the Rose Parade and will air the annual event on Jan. 1.
The 2013 grand marshal was primatologist Jane Goodall.