This is an archived article and the information in the article may be outdated. Please look at the time stamp on the story to see when it was last updated.
SANTA MONICA, Calif. (KTLA) — A fight is brewing in Santa Monica over a city plan to charge fitness trainers for holding workout sessions in public parks.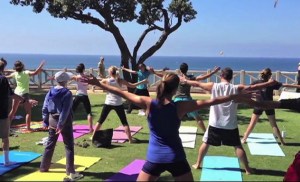 On any given day, there are yoga classes, boot camps, hula hoopers — you name it — in the public parks or on the beach in Santa Monica.
However, the city has received complaints from people who argue that parks are not outdoor gyms and should not be used for commercial purposes.
They say that they want to protect the public spaces in their beautiful city from excessive wear and tear.
In response, Santa Monica is now considering making some controversial changes.
Some of the possibilities include charging fitness trainers $100 per year for a permit and taking 15 percent of the profits from the classes.
But the trainers don't like that idea, and they are flexing for a fight.
They have formed a group called the Santa Monica Outdoor Fitness Coalition.
It consists of seven personal trainers who represent about 450 clients that work out in Santa Monica.
The proposal is expected to go to the Santa Monica City Council in late March. Until then, expect quite a back-and-forth battle on the issue.