This is an archived article and the information in the article may be outdated. Please look at the time stamp on the story to see when it was last updated.
A San Bernardino man was arrested Wednesday in connection with the stabbing deaths of his ex-wife and young daughter, authorities said.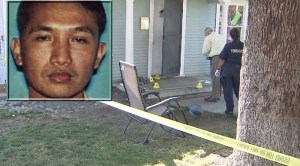 Miraflor Sartorio, 51, and her daughter Jira, 6, were found dead around 5:40 a.m. inside their home located in the 300 block of West 29th Street, the San Bernardino Police Department said in a statement.
The woman's ex-husband, Jordon Sartorio, 42, is accused of stabbing the two to death, police said.
He "used a knife to stab Miraflor several times," the statement said.
The killings were prompted by an argument that caused Jordon to become upset, police said.
"The suspect attempted to kill himself by slashing his wrist.  He then called the police to report the incident," the statement said.
Jordon Sartorio was expected to undergo surgery on his wrist at an area hospital, according to police.
The couple was divorced but still lived together, police said.
There was no history of domestic violence in the home, the statement said.