This is an archived article and the information in the article may be outdated. Please look at the time stamp on the story to see when it was last updated.
The mayor of the affluent city of San Marino has apologized after he was caught on video tossing a bag of dog poop onto a neighbor's property, but the homeowner said Monday he was not satisfied with the city leader's response.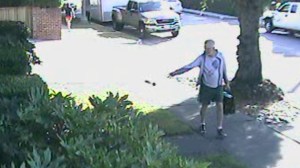 Video of the Saturday incident was recorded by a security camera owned by Philip Lao, who lives not far from San Marino Mayor Dennis Kneier.
Kneier and his wife were apparently walking along residential Euston Road (map) on return from a trip to a nearby park when the mayor dropped the bag onto Lao's property.
In the video footage, Kneier carries some kind of shopping bag in his left hand and the small bag of feces in his right as he walks along a sidewalk.
His wife, who walks several paces in front of him, points to the walkway leading to Lao's house. Then Kneier tosses the feces-filled bag onto the walkway, and both he and his wife continue walking.
The incident was originally described in an article in the Pasadena Star-News, which reported Monday that Kneier and Lao had not spoken about the incident.
"It's embarrassing to me to make a mistake," Kneier told KTLA.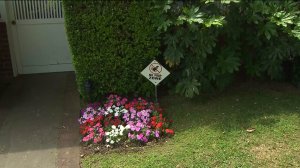 He removed the poop-filled bag from where it had been siting at a lamp post, he said, but tossing the baggie onto Lao's property was poor judgment.
"I should have … just left it there, but I'm not the type of person to leave things sitting around," Kneier said.
A typed apology letter, provided to KTLA by Lao, was delivered to Lao on letterhead bearing Kneier's name.
"Dear Phil, Late in the day this past Saturday, June 7, Liz and I were returning from a walk in Lacy Park when we noticed a bag of dog waste in your west parkway near the lamp post," it stated.
"Rather than leave it or dispose of it properly, I placed it on your side walkway. This was a mistake, for which I apologize. It won't happen again."
Lao says he believes the tossed poop was payback for his past opposition to some of Kneier's proposals, including the construction of a dog park.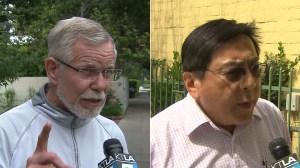 Kneier denied any such motivation.
Lao reported the incident to police in San Marino, a San Gabriel Valley city with a reputation with expensive homes, green lawns and good schools.
"He thinks that he can just smooth things over. He thinks that he can have the police drop it," Lao said. "But I will pursue it. I'm in touch with a lawyer, and we're thinking of pursuing harassment."
In a news release issued Monday afternoon, the San Marino Police Department stated that it was "considering this matter still under investigation."
The Charlton Road resident who complained to police on Saturday evening was not "desirous of prosecution," the release stated.
KTLA's Melissa Pamer and Kareen Wynter contributed to this article.