This is an archived article and the information in the article may be outdated. Please look at the time stamp on the story to see when it was last updated.
Investigators arrested a longtime Santa Monica city employee Thursday on suspicion of molesting children while volunteering for the city's Police Activities League in the 1990s, officials said.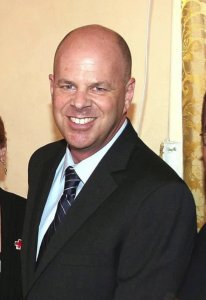 Eric Wess Uller, 50, was taken into custody at his workplace by Los Angeles County Sheriff's Department detectives, Lt. Todd Deeds of the sheriff's Special Victims Bureau said. He works as Santa Monica's lead public safety systems analyst.
An investigation began early in the summer when the Santa Monica Police Department received an anonymous tip regarding Uller, city officials said in a written statement. Once an alleged victim was identified, the case was turned over to the sheriff's Special Victims Bureau for investigation.
"LASD arrested Mr. Uller on charges of lewd acts with a minor," the statement said.  "The city has been informed that the charges relate to alleged incidents that date back to the early-1990s and occurred while Mr. Uller was volunteering with the city's Police Activities League program."
Officials have identified four alleged victims, Deeds said. They did not come forward until recently.
Investigators are looking for any other possible victims, Deeds said.
An employee of Santa Monica's Police Activities League was convicted in 2015 of a misdemeanor charge of annoying or molesting a minor, officials said. He was promptly fired.
Uller has been placed on administrative leave pending the investigation, city officials said.
"The city will continue to take all steps to ensure the health, safety and wellbeing of youth enrolled in city-sponsored programs," the statement said. "The city has and will continue to cooperate fully with the Sheriff's Department and the (Los Angeles County) District Attorney's Office as the matter proceeds."
Uller's bail has been set at $2 million pending his initial court appearance, scheduled Monday in Los Angeles County Superior Court.
Anyone with information was asked to contact the sheriff's Special Victims Bureau at 877-710-5273, or by email at specialvictimsbureau@lasd.org. Tips may also be submitted anonymously to L.A. Regional Crime Stoppers at 800-222-8477.