This is an archived article and the information in the article may be outdated. Please look at the time stamp on the story to see when it was last updated.
A teacher was scheduled to return to the Santa Monica High School campus on Monday after being placed on leave following a video showing a physical altercation between him and a student, according to the school.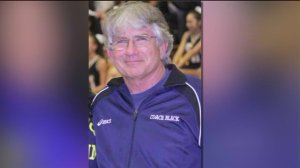 It was standard practice to place science teacher and wrestling coach Mark Black on paid administrative leave during an investigation into the fight, a news release from the Santa Monica-Malibu Unified School District stated.
"Based on what we have learned, it is appropriate to return Mr. Black from paid administrative leave, at this time," Superintendent Sandra Lyon stated in the release.
Black received an outpouring of support after he was put on leave April 4 due to the altercation.
In a video Black could be seen restraining an unidentified student after other students moved out of the way of the fight, which appeared to take place in a classroom.
Although final judgements would not be made until the completion of an investigation, according to a letter from the district at the time, Black's supporters claimed the letter showed prejudgement of the teacher's actions.
"I can tell you that what I witnessed on one of those videos is utterly alarming," Lyon stated in the letter.
And although no one was seriously harmed physically, Lyon added, "that neither dismisses the severity of this situation nor my commitment to gather all the facts and make sure the proper actions are taken."
Support included a Facebook page entitled "We Support Coach Black of Samohi" — shorthand for "Santa Monica High" — which had over 23,500 likes as of Friday.
"It is unfortunate that the widespread use of social media has triggered physical threats and inflammatory remarks impugning the character of our administrators," district Board President Maria Leon-Vazquez stated in Friday's news release. "Ms. Lyon has publicly apologized for a quickly conceived email that afternoon that presented an incomplete picture of the incident and inflamed some segments of our community. We ask that everyone accept her sincere expression of regret and support her strong leadership."
It was not known what triggered the confrontation, but some students told KTLA at the time that the unidentified student may have been caught selling drugs in class.
Student Blair Moore, 18, was taken into custody on April 4, following the altercation.
Moore pleaded not guilty on April 8 to two counts of threatening a school official, one count of possession of a box cutter on campus, one count of possession of marijuana, and one count of force or violence against a school employee in retaliation for an act performed in the course of his or her duties, according to the Santa Monica Police Department Sgt. Jay Moroso.
An unidentified 16-year-old boy was also detained in connection with the fight, Moroso said.
Moore was due to appear back in court on April 22.
The district and Santa Monica Police Department were working together to investigate the charges against the students, the district stated in the news release.
"SMPD has asked us not to comment on any details of the incident that afternoon so as not to jeopardize their own ongoing investigation," Lyon stated in the release.
The district was also not legally permitted to comment on disciplinary actions taken against the students.
In an effort to "look ahead and learn from this experience" the district planned two policy review efforts, the release stated.
These included a review of policies, procedures, and protocols relating to non compliant students and the formation of panel of employees, administrators, parents, and students meant to discuss issues related to the incident.
The district also asserted that placing Black on paid leave was not a determination of wrongful conduct.
"Mr. Black is a valued coach and educator and we owed him due process protections while the independent investigation was conducted," district Board Vice President Ralph Mechur stated in the release. "We have honored that obligation."
A final report from investigation was scheduled to be released by the middle of the following week, according to the release.