This is an archived article and the information in the article may be outdated. Please look at the time stamp on the story to see when it was last updated.
Drivers heading south on Interstate 5 near Mission Bay Sunday may have noticed one of the highway signs was defaced by a critic of SeaWorld San Diego.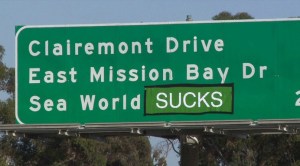 Someone apparently climbed to the top of the sign hanging over the middle of the busy highway and painted over it.
The vandal changed the exit sign to "Sea World SUCKS."
The incident happened amid protesting outside SeaWorld over Memorial Day weekend. Protestors expressed their concern of the orcas being held in captivity.
It was unknown when Caltrans would remove the vandalism.
"This act of vandalism demonstrates that, once again, these extremists are more concerned with publicity stunts than actually helping animals," SeaWorld San Diego spokesman Dave Koontz stated Sunday.