This is an archived article and the information in the article may be outdated. Please look at the time stamp on the story to see when it was last updated.
Divers searched Castaic Lake on Tuesday for clues in the disappearance of a college student from Orange County whose overturned SUV was discovered at the bottom of a ravine near a boat launch.
Bryce Laspisa, 19, was last heard from shortly after 2 a.m. Friday, Aug. 30, when he called his parents to say he was too tired to drive.
Laspisa, a student at Sierra College near Sacramento, was making his first trip home to Laguna Niguel from Northern California in a white Toyota Highlander recently given to him by his parents.
"He said 'I got off the 5 (Freeway) in a residential area. I'm tired, I'm going to sleep in my car,'" Bryce Laspisa's mother, Karen Laspisa told KTLA.
She asked her son to call her when he woke up.
"That's the last I talked to him," Karen Laspisa said.
Bryce Laspisa's SUV was discovered lying on its side near Castaic Lake a few hours later.
Its rear window was smashed, and deputies believed Bryce Laspisa managed to break the back window and walk away from the SUV.
"Thinking that he's out there hurt is the main focus. I can't believe he would be on a journey of his own without telling his parents," Bryce Laspisa's father, Michael Laspisa said.
"Totally out of character. He's the kind of son who will call you if he's got a hangnail. He's totally an open book," Michael Laspisa said.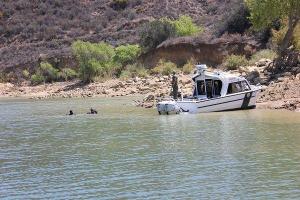 Searches of the area, including a dive team's search of the lake and helicopter and canine searches of surrounding mountains, had turned up no sign of the missing teen.
Nearby San Francisquito Canyon was searched on Tuesday.
A Facebook page – Find Bryce Laspisa – was set up to distribute more information.
The Los Angeles County Sheriff's Department described Laspisa at 5 feet 11 inches tall, weighing 170 pounds, with red hair and blue eyes.
Anyone with information was asked to call the sheriff's department Parks Bureau at 661-272-2594.
If Laspisa is spotted, call the sheriff's department's Missing Persons detectives at 323-890-5500.