This is an archived article and the information in the article may be outdated. Please look at the time stamp on the story to see when it was last updated.
FULLERTON, Calif. (KTLA) — The search continued on Wednesday for a missing Cal State Fullerton student who is also an Army veteran.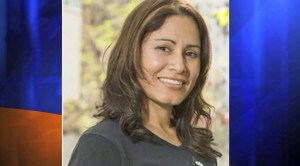 Police have characterized the disappearance of 36-year-old Maribel Manriquez Ramos as suspicious.
Ramos is a former Army sergeant who served in South Korea and Iraq.
She was scheduled to be recognized at a veteran's appreciation dinner over the weekend, but she never showed up.
Ramos was just weeks away from graduating from Cal State Fullerton with a major in criminal justice. She was described at the university as a top student.
She was last seen paying her rent at her apartment in Orange last Thursday around 8:30 p.m.
Her car was found out front, but her keys, her wallet and her cell phone were all missing.
Her bank account and credit cards have not been touched, police said.
"I can't even believe this is happening," Ramos' sister, Lucy Gonzalez said. "I can't believe she's not here right now."
"I have the best army… I have God and I have all kinds of people, so we will find her," she added.
Ramos has lived in Orange for two years with her roommate.
He told Ramos' sister that when he left the apartment on Thursday, she was there. When he returned home, she was gone.
Ramos is 5 feet 2 inches tall and weighs 130 pounds. She has a star tattoo on her shoulder and an Aztec symbol on her back.
Friends have created a Facebook page, "Find Maribel Ramos," to help in the search.
Anyone with information or who might have seen Ramos is asked to call the Orange Police Department at (714) 744-7403.