This is an archived article and the information in the article may be outdated. Please look at the time stamp on the story to see when it was last updated.
MOORE, Okla. (KTLA) — The search for survivors was winding down in Moore, Oklahoma on Wednesday in the wake of a massive tornado that devastated the area on Monday.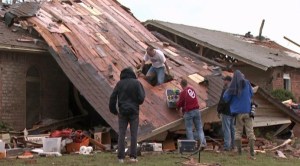 Authorities acknowledged that the likelihood of funding any additional survivors was growing dimmer by the moment.
The death toll remained at 24 people, including nine children, the state medical examiner's office said.
Another 324 people were injured, Gov. Mary Fallin said Wednesday.
Officials did not expect the death toll to rise, Glenn Lewis, the mayor of Moore, said.
Authorities promised to check every property and piece of land three times before calling off the search for survivors.
It was also confirmed on Wednesday that seven of the dead youngsters were from the destroyed Plaza Towers Elementary School.
Neither Plaza Towers nor the damaged Briarwood Elementary School in Oklahoma City had a tornado-safe room, authorities said.
A brave teacher who was impaled while protecting her students recalled the moment when a wall came crashing down on them.
"Initially, I thought something large and heavy was just on my leg and I was stuck," Suzanne Haley said.
"I asked my daughter if she could see if that was something that could be lifted, and she realized and screamed that it was in my leg," she said.
"I couldn't go into hysterics in front of my children, in front of the other students," Haley said. "I had to be calm for them."
Meantime, the National Weather Service upgraded the twister one level of magnitude to E5, the top of the Enhanced Fujita (EF) scale.
The wind speeds topped out at 210 mph, officials with the NWS said.
An E5 packs enough punch to strip away strong frame houses and send automobiles flying more than 100 yards.
That proved true in Moore, where the tornado touched down shortly before 3 p.m. on Monday and stayed on the ground for about 50 minutes.
The storm's track was 17 miles long and 1.3 miles wide, according to the NWS.
The preliminary number of damaged or destroyed homes stood at more than 2,400.
About 10,000 customers remained without power on Wednesday, down from 37,000, Governor Fallin said.
Insurance claims from damage related to the story were expected to top $1 billion, according to the Oklahoma Insurance Department.
You can support the response in Moore, Oklahoma and other disasters by texting REDCROSS to 90999 to give $10, or go online at http://redcross.org.
You can also text STORM to 80888 to donate $10 to the Salvation Army, or visit http://salvationarmyusa.org.