This is an archived article and the information in the article may be outdated. Please look at the time stamp on the story to see when it was last updated.
Hundreds of people gathered in Pomona Tuesday night to mourn the loss of a beloved youth minister who was gunned down after leaving a birthday party.
"My son was an incredible young man and he helped a lot of people," father David Diaz said.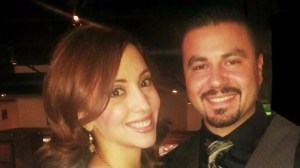 Daniel Diaz was shot early Monday when someone opened fire on the car he was traveling in near Park Avenue and Mayfair Street in the city of Pomona, according to the Pomona Police Department.
Diaz, a West Covina resident, was in the car with several members of his church after a birthday party.
The 33-year-old served as a youth minister at New Beginning Community Ministries Church in Baldwin Park, according to church officials.
At-risk boys who he mentored were distraught, saying Diaz had been an inspiration.
"He was like a big brother to me," friend Raymond Yiniquez said through tears. "He was always there for me every time I needed him. I'm just really going to miss him."
Daniel's girlfriend Denise Lugo was inconsolable and barely able to speak.
"Daniel was wonderful," Lugo said. "I loved him very much. I'm just brokenhearted, right now. I hurt so bad."
The Pomona Police Department urged anyone with information on the shooting to call detectives at 909-620-2085 or to contact "Crime Stoppers" at 1-800-222-8477.
Ann Pride contributed to this story.