This is an archived article and the information in the article may be outdated. Please look at the time stamp on the story to see when it was last updated.
Fontana police called off the search for an "aggressive" mountain lion in the Hunter's Ridge neighborhood on Thursday, one day after it killed a family's 100-pound dog and repeatedly approached officers who shot at the cougar, officials said.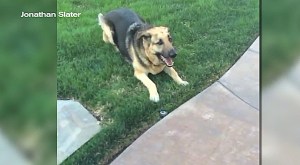 Officers responded to the 4100 block of Foxborough Drive (map) early Wednesday after a German Shepherd named Princess was found dead in a backyard, according to the Fontana Police Department.
"We believe the contact our officers had with the mountain lion on [Wednesday]  scared it back into the canyon," police Chief Rodney Jones said in a statement.
The animal was not found despite an "exhaustive" 24-hour effort involving officers in the air and on the ground, according to police.
"We will continue to patrol the area routinely to ensure public safety," Jones said.
Police have encouraged pet owners to keep their domesticated animals indoors from dusk until down, which is the time when cougars are most active. Authorities were also urging residents to be "cautious of their surroundings."
Anyone who sees a mountain lion was asked to call 911.