This is an archived article and the information in the article may be outdated. Please look at the time stamp on the story to see when it was last updated.
Southern Californians can expect the spectacle of bears bounding through foothill neighborhoods — such as the bruin that took five tranquilizer darts to be subdued in Granada Hills Tuesday — to continue as animals prepare for winter, a state wildlife official said.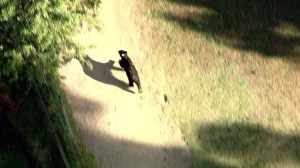 Bears seeking food before their months of hibernation will likely come down from the mountains into developed areas for the next few weeks, according to California Fish and Wildlife spokesman Andrew Hughan.
"It's very normal fall behavior," Hughan said. "They're bulking up for winter; they're getting their fat layer."
His comments came on Wednesday morning as state wildlife officials were transporting the bear that wardens spent nearly 12 hours pursuing in a suburban Los Angeles neighborhood the previous day.
The bear was being taken to an undisclosed wilderness location in the Los Padres National Forest, hopefully far enough away from humans and their tempting food smells that he won't return, Hughan said.
The 150-pound male bear — about 3 years old, a "teenager," Hughan said — was pursued after being spotted in a tree near a Granada Hills school. He ran repeatedly across a golf course, taking in four tranquilizer darts but eluding police officers and wardens.
"He did not want to go down," Hughan said. "He's big and strong and very willful.…The warden on the scene said he'd never seen  bear take that much tranquilizer and still go."
Eventually, the bear was discovered in thick juniper and darted a fifth time before being taken overnight to a secure state wildlife facility, Hughan said.
In the morning, the bear was being transported to a secret spot in Los Padres National Forest, a 1.75 million-acre expanse that stretches from Ventura County to  Big Sur.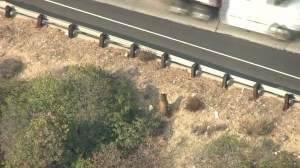 The bear had been captured before, but Hughan didn't know the circumstances that led to the tag in the animal's left ear. During his Granada Hills adventure, the bear did nothing "wrong" — such as damaging property or breaking into a home — so he gets a "free pass" and will simply be tranquilized and returned to wilderness if he comes back, Hughan said.
The Granada Hills bear — which has no official name, per state wildlife policy — generated considerable interest from the public and news media, as did a bear that led officials on a chase near the Rose Bowl in Pasadena last week.
Despite increased attention to bear runs through residential areas, there's no actual uptick in the number of bruins who descend into developed neighborhoods, Hughan said.
There is, however, increased attention due to social media use by those who spot bears — and corresponding interest in local news media, Hughan stated.
"Bears have taken over car chases in Los Angeles," Hughan said. "There's no science that says there's more bears, it's just more reporting."