This is an archived article and the information in the article may be outdated. Please look at the time stamp on the story to see when it was last updated.
Police in San Bernardino were looking Tuesday for a second vehicle in which the occupants may have witnessed a hit-and-run crash that killed a 2-year-old girl.
Asianae Thomas was hit by a truck after darting out into the street in the 2400 block of North Mountain View on May 5.
She was later declared brain-dead, according to the San Bernardino County Coroner's Office.
Police, responding to a tip, seized a truck matching the description of the hit-and-run vehicle at an apartment complex in San Bernardino on May 8, according to a news release from the San Bernardino Police Department.
Investigators were currently performing tests on the vehicle, including DNA sampling, the release stated.
While the tests were underway, investigators were looking for the occupants of a dark-colored sedan that followed the suspect truck northbound on Mountain View from Highland Avenue following the crash, the release stated.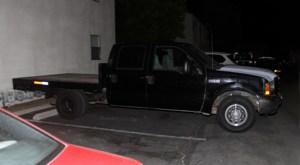 Investigators believed the occupants might be able to provide crucial information.
Anyone with information was urged to call 909-384-5664.