This is an archived article and the information in the article may be outdated. Please look at the time stamp on the story to see when it was last updated.
(CNN) – Blood and hair samples from eastern Damascus, Syria, have "tested positive for signatures of sarin" gas, Secretary of State John Kerry said Sunday, arguing that with "each day that goes by, this case is even stronger."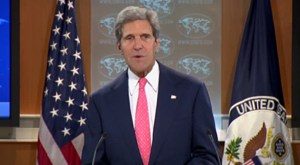 Kerry said on CNN's "State of the Union" that the U.S. obtained the samples "independently" through an "appropriate chain of custody," giving no indication the results came from the United Nations chemical weapons inspectors.
"We know that the regime ordered this attack, we know they prepared for it," Kerry said. "We know where the rockets came from. We know where they landed. We know the damage that was done afterwards. We've seen the horrific scenes all over the social media, and we have evidence of it in other ways, and we know that the regime tried to cover up afterwards, so the case is really an overwhelming case."
Read more at CNN.com.