This is an archived article and the information in the article may be outdated. Please look at the time stamp on the story to see when it was last updated.
Security was increased at Los Angeles International Airport on Thursday, after a former TSA screener was arrested for allegedly making terrorist threats related to the 12th anniversary of the Sept. 11 attacks.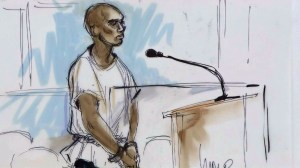 Nna Alpha Onuoha, 29, was taken into custody Tuesday in the parking lot of a Riverside church after being tracked by the FBI's Joint Terrorism Task Force. Onuoaha had resigned from his position with the Transportation Security Administration earlier in the day.
After his arrest, Onuoha told authorities that he had no intention of committing acts of violence, but rather wanted to start preaching on Sept. 11, according to an affidavit filed in federal court.
"Anyone that makes a threat to an airport — an international airport in particular — is going to face extreme scrutiny and we are going to investigate it and we're going to take all precautions to make sure that the public is safe at LAX airport and any of the other surrounding airports," said Bill L. Lewis, assistant director in charge of the FBI's Los Angeles Division.
The area around Onuoha's Inglewood home was evacuated Wednesday amid the response to a suspicious package report, authorities said.
The Los Angeles Police Department bomb squad was also called to TSA headquarters after a suspicious package was sent there, apparently by Onuoha, according to an FBI spokeswoman.
The response came just after Onuoha appeared in federal court in downtown Los Angeles, according to Thom Mrozek, a spokesman for the U.S. Attorney's Office for the Central District of California. He was not asked to enter a plea, Mrozek said.
Onuoha was charged with making a false threat and making threats affecting interstate commerce, Mrozek said. He faces up to 15 years in federal prison if convicted on both charges.
Hours after Onuoha resigned from the TSA, his employer since 2006, he returned to the agency's LAX headquarters with a sealed express-mail envelope addressed to the screening manager, according to the FBI affidavit, written Special Agent David Gates.
Shortly thereafter, Onuoha called a TSA terminal checkpoint to say the manager should open the package immediately — and that authorities should begin evacuating two airport terminals immediately, Gates wrote. Onuoha said he would be watching to ensure the terminals were evacuated, authorities said.
A bomb squad responded and cleared the package Onuoha had allegedly left. It contained an eight-page letter titled "The End of America, The End of satan, we were not defeated" that detailed Onuoha's thoughts on a suspension he faced in July over a confrontation with a 15-year-old girl regarding her apparel, the affidavit stated.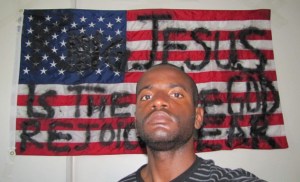 Just after the package was cleared, Onuoha called his manager, again warning that three airport terminals needed to be evacuated, Gates wrote in the affidavit.
He also allegedly called LAX police to urge evacuation, saying he was "going to deliver a message to America and the whole world," the affidavit stated.
"The TSA manager told me that he believed the most credible scenario was an 'active-shooter' situation at the airport," Gates wrote.
No explosives were found inside the airport after a search of the terminals Onuoha mentioned, airport police said.
At Onuoha's last known residence — a large apartment complex for veterans in Inglewood — authorities found all of the suspect's possessions removed from his room, save for a note that was dated Sept. 11, 2013, and read "There will be fire! Fear! Fear! Fear!"
The note was a sign that Onuoha intended to start preaching in the streets on Wednesday, the suspect told the FBI after his arrest, according to the affidavit.
The FBI  tracked Onuoha late Tuesday to Riverside, where he was taken into custody just before midnight in a minivan in the parking lot of Harvest Christian Fellowship in the 6100 block of Arlington Avenue.
A bomb squad and its robot responded, examining packages found inside the van, aerial video from Sky5 showed. A red painted cross and hand-written signs were found inside the van.
Then, just before 2 p.m. Wednesday, Inglewood police responded to a report of a suspicious package found in a building near Hindry and Spruce avenues, the same location as Onuoha's residence.
The area was evacuated, according to Inglewood police Lt. Oscar Serrano, and aerial video showed multiple patrol cars on scene. People were kept from the building by authorities.
The package had been sent to a counselor who worked with Onuoha, he told KTLA.
Onuoha's home was in an apartment complex designed to house U.S. military veterans. Onuoha had served for eight years as an infantryman in the National Guard, the Los Angeles Times reported, including a deployment to Kosovo. He participated in a program called U.S. Vets, meant to help with adjusting to civilian life.
"I never wanted to talk to him because he just didn't seem, you know, right and I didn't want to have a conflict with him," neighbor Jose Sanchez said. "He looked like he had problems, you know — angry all the time."