This is an archived article and the information in the article may be outdated. Please look at the time stamp on the story to see when it was last updated.
U.S. Atty. Gen. Jeff Sessions is expected to make a major announcement in Sacramento on Wednesday about "sanctuary jurisdictions," a label used to describe cities or states where leaders have limited collaboration between law enforcement and federal immigration agencies.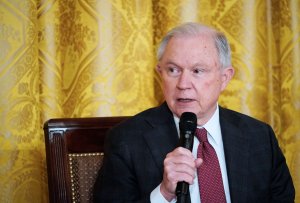 The nation's top law enforcement officer is scheduled to speak at the 26th Annual Law Enforcement Legislative Day hosted by the California Peace Officers' Assn. Sessions will make his announcement at the event, the Justice Department said in a news release.
A longtime advocate for reduced immigration — both legal and illegal — Sessions has led the Trump administration's effort to increase deportations and has been in an ongoing battle with so-called "sanctuary cities" to force them to cooperate with federal immigration officials. Cities and counties across the country have been fighting the crackdown, winning federal court rulings against executive orders that block "sanctuary" policies from taking effect.
But in recent months, some of Sessions' fiercest attacks have centered on California's new "sanctuary state" law, which took effect in January and attempts to shield more than 2 million immigrants living in the state illegally. He has called it "unconscionable" and a threat to public safety.
Read the full story on LATimes.com.