This is an archived article and the information in the article may be outdated. Please look at the time stamp on the story to see when it was last updated.
A woman in her 60s was killed late Monday night in Tarzana, when another vehicle struck her car as she sat a red light, authorities said.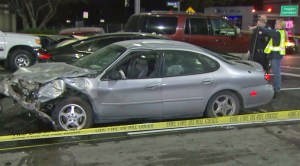 The crash occurred around 11:10 p.m. Monday near an on-ramp to the Ventura (101) Freeway at the corner of Ventura Boulevard and Vanalden Avenue (map), according to the Los Angeles Police Department.
A gray 1999 Ford Taurus crashed into several vehicles that were stopped at the intersection, according to investigators with the LAPD's Valley Traffic Division.
The woman driving a blue 2003 Saturn Ion was pronounced dead at the scene, police said.
The force of the collision was so powerful that it pushed the Ion into five other cars.
Three other people suffered minor injuries, but did not need to be hospitalized, police said.
Investigators described the driver of the Taurus as a man in his 30s.
As he waited for first responders to arrive, the man walked into a Chevron Food Mart nearby and purchased alcohol, LAPD Det. Bill Bustos said.
Witnesses told KTLA 5 the man bought a six pack of beer, and was drinking when officers arrived.
The man was handcuffed and taken to the hospital in stable condition, but not arrested, police said.
The exact cause of the crash was under investigation, but it appeared speed was a factor, authorities said.