This is an archived article and the information in the article may be outdated. Please look at the time stamp on the story to see when it was last updated.
Two pedestrians were injured when an SUV crashed into a bus bench in East Los Angeles and the driver fled Wednesday evening, according to authorities.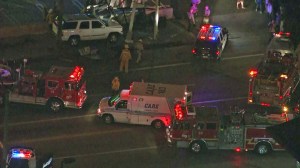 The crash occurred just before 5:18 p.m., when the call came in, according to officials with the Los Angeles County Fire Department.
A man and a woman were transported to a local hospital, according to fire Inspector Art Marrujo.
The male driver of the white Chevy Tahoe that was involved fled the scene on foot, according to California Highway Patrol Officer Tony Polizzi.
Witnesses at the scene told KTLA the man had a child with him.
Aerial video showed multiple ambulances, fire trucks, and sheriff's patrol cars on scene. Dozens of onlookers gathered at the busy intersection to watch the response.
The collision occurred at Atlantic and Whittier boulevards (map), where a bus shelter appeared to have been knocked on its site by a white SUV, aerial video showed.
Check back for updates on this developing story.
KTLA's Jennifer Thang and Nidia Becerra Tijerino contributed to this report.