This is an archived article and the information in the article may be outdated. Please look at the time stamp on the story to see when it was last updated.
MISSION HILLS, Calif. (KTLA) — A mother says she is devastated, after hidden cameras captured caregivers physically abusing her adult disabled son.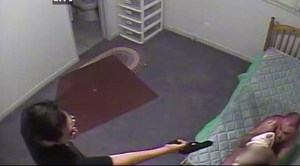 "It's hard for me to forgive myself that I took my son and put him in their hand, like you take your son to hell," Kathy Coleman says.
Caregivers were recorded by hidden cameras kicking and punching her son Cameron, stomping on his face, spitting on him, whipping him with a chain and threatening him, possibly even shooting him with a pellet gun.
"My son is sick. Does he deserve this?" Coleman asks.
Cameron is a 31-year-old man with autism. He doesn't speak and has the IQ of a 3-year-old boy, Kathy says.
The Colemans — who say age is slowing them down — decided to contact Jay Nolan Community Services in Mission Hills for in-home care.
According to its website, the organization — funded by taxpayer dollars — has a noble mission:  "Every Person living a quality life. Empowered. Included. Embraced."
"Of course as a mother I failed to protect my son from Jay Nolan," Cathy says.
The Colemans rented out an apartment for Cameron in Northridge where live-in caregivers stayed with him 24-7.
But when Kathy began to notice bruises on her son's body and fear in his eyes she installed hidden cameras.
The $10,000 system caught despicable abuses, she says, and when Kathy complained to management she says they tried to break the equipment and destroy the evidence.
Workers at Jay Nolan's offices in Mission Hills told KTLA that they were not authorized to discuss the alleged abuse.
The executive director, Jeff Strully, sent a text saying he was busy.
Jay Nolan Community Services provides care to nearly 500 people. For Cameron's care alone, the state was providing $18,000 a month.
"Unquestionably, there needs to be more financial oversight and supervision of these programs," says attorney Steven Gambardella.
Gambardella, who is now representing the Coleman's, tells KTLA that two employees in the video have been arrested and charged with felony abuse.
He has filed a lawsuit against Jay Nolan Community Services.
If it weren't for the cameras, Kathy says that money would still be paying people to abuse and ridicule her son.
"I'm not going to let it go," she insists. "They have to pay the price, be punished, for what they did to be and my innocent son, my husband, my family."
— Carolyn Costello, KTLA News