This is an archived article and the information in the article may be outdated. Please look at the time stamp on the story to see when it was last updated.
SANTA MONICA, Calif. (KTLA) — An alleged gunman was shot and killed by police at Santa Monica College on Friday after killing at least four people in a series of shootings across the city.
Earlier, the chief of police had reported a total of seven dead.
"At this hour, it appears at least a half-dozen are dead and as many as two or three are injured," Santa Monica Police Department Chief Jacqueline Seabrooks said at a Friday afternoon news conference.
Hours later, authorities revised the death toll to a total of five, including the gunman.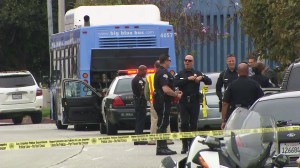 Two people were found dead inside a burning home at 2036 Yorkshire Ave., Seabrooks said.
Another victim was killed near Cloverfield and Pico boulevards and another died near 19th and Pearl streets, according to the chief.
The alleged gunman was shot and killed at the college.
The incident began shortly before noon Friday as officials responded to reports of a house fire near the intersection of Kansas and Yorkshire avenues.
The bodies of two men, believed to be the brother and father of the suspected gunman, were found inside the home, according to fire officials.
Neighbors saw the gunman, dressed in all black, firing shots at a vehicle outside the home, witnesses said.
"It was really scary. I've never seen anything like this in my life," said Reid Rosson, who witnessed the incident.
Another shooting was reported around 11:55 a.m. when a fully armed man standing on a street corner near Cloverfield and Olympic boulevards fired on multiple vehicles, including a bus, according to the California Highway Patrol.
The man then attempted to carjack two vehicles, witnesses said.
One of the attempted carjackings occurred near the campus library and college police station.
The gunman fled to the library, where he was shot and killed by police.
Students and teachers heard the gunfire and took cover.
"It's really scary. We were about to take our final and then we heard gunshots. Then someone came in and said, 'there's someone with a gun outside. You guys need to lock yourselves in a classroom.' Then we just all got on the ground, " student Alana Hunter said.
"Once I saw people running saying, "this isn't a drill. This is gunfire," another student said.  "My heart was pounding. I didn't know what to do. I had to run into my classroom and tell everyone to stop the final."
One professor acted quickly to protect his students who were taking a philosophy final.
"Got all our students, pulled them away from the door. We huddled up in a corner so if anyone looked in they wouldn't see us," Professor Robert Flores said.
According to police, the gunman was dressed in SWAT gear including a ballistic vest and was armed with an AR-15 semi-automatic weapon with multiple rounds of ammunition.
A second person was taken into custody in connection with the shootings, but he was later released.
The incident took place not far from where President Barack Obama's motorcade passed through Santa Monica.