This is an archived article and the information in the article may be outdated. Please look at the time stamp on the story to see when it was last updated.
The debit-card system that allows people on public assistance to buy food was temporarily disabled by a computer glitch on Saturday, impacting welfare recipients in Los Angeles and other cities across the country.
"Beneficiary access to programs such as SNAP, TANF, and other programs has been restored to the  17 states where Xerox provides EBT service," Xerox said in a statement issued Saturday evening. "Re-starting the EBT system required time to ensure service was back at full functionality."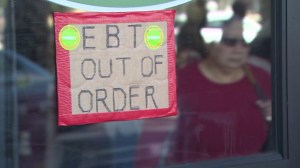 Distressed shoppers began calling and emailing the KTLA 5 newsroom Saturday morning to report the Electronic Benefits Transfer (EBT) system wasn't working.
A Food 4 Less store in Hollywood confirmed that the EBT system went down at about 7 a.m.
A Stater Bros. Market in Downey also said the system was not working.  The California and federal government EBT websites remained out of service as of Saturday afternoon.
While some of the people who were affected blamed the federal government shutdown, it was initially unclear what caused the problem.
EBT cards allow low-income people to buy food at participating stores and restaurants through the federal government's Supplemental Nutrition Assistance Program (SNAP).
According to media reports, the EBT system was not working in Michigan, Virginia, Georgia, Michigan, Alabama , Virginia and several other states.