This is an archived article and the information in the article may be outdated. Please look at the time stamp on the story to see when it was last updated.
The California Highway Patrol shut down an on and off-ramp to the 405 Freeway in Carson for several hours after a big rig overturned and spilled its contents all over the roadway during the morning commute on Wednesday.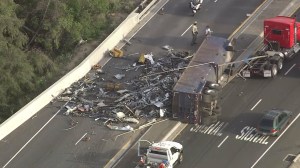 The crash occurred shortly after 7:30 a.m. on the northbound Alameda Street on-ramp, according to the CHP's incident log.
Aerial video showed the big rig's trailer on its side and what appeared to be scrap metal strewn about the road.
Both the on and off-ramps were blocked, according to the CHP.
A SigAlert was issued just before 8:00 a.m., the incident log stated.
The on and off-ramps were reopened around 11:00 a.m., the CHP tweeted.
It was not immediately known whether any injuries were reported.