This is an archived article and the information in the article may be outdated. Please look at the time stamp on the story to see when it was last updated.
A multi-vehicle crash involving a jackknifed semitrailer and 11 other vehicles on the 10 Freeway in Ontario on Wednesday morning prompted the California Highway Patrol to issue a SigAlert.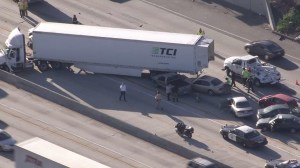 At least one person was hurt in the collision, but the number and extent of the injuries was not immediately known, said CHP Officer Marcelo LLerena.
It was unclear what caused the pileup, which occurred about 7:34 a.m. on the eastbound side of the freeway, just west of Euclid Avenue (map).
All eastbound lanes except one were closed as crews worked to clear the scene.
The center divider was not damaged, Llerena said, contrary to initial reports.