This is an archived article and the information in the article may be outdated. Please look at the time stamp on the story to see when it was last updated.
BANNING, Calif. (KTLA) — A fast-moving brush fire continued to burn out of control near Banning on Thursday, forcing at least 1,500 people from their homes.
The so-called Silver Fire had scorched 14,000 acres and was 20 percent contained as of Thursday evening, according to the Riverside County Fire Department.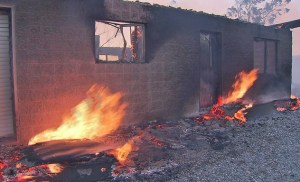 "There have been 26 homes and one commercial structure destroyed by the fire. Two structures were damaged," the department said.
Mandatory evacuation orders remained in place for the communities of Vista Grande, Mt. Edna, Poppet Flats, Twin Pines and Silent Valley.
Portions of Cabazon were also evacuated, including Snow Creek Village, Peach Street, Plum Street, Eucalyptus Street, Riza Avenue, Ida Avenue and Helen Avenue east to Elm.
Additionally, Black Mountain was also evacuated and closed as a precaution on Thursday morning.
Boulder Basin and Black Mountain Campgrounds on Black Mountain Road have been closed through Aug. 15.
Highway 243 was closed to all traffic between Banning and Idyllwild.
The blaze began around 2 p.m. on Wednesday in the area of Poppet Flats Road near Highway 243 and spread quickly.
Fire officials expected the flames to continue to push east toward Palm Springs, fueled by onshore west winds.
The fire was burning in an area that has not burned for about seven years, since the Esperanza Fire in 2006, Cal Fire spokesperson Julie Hudson said.
Fire crews were dealing with dense, dry brush ripe for tindering as well as rugged terrain, Hudson said.
There were five injuries reported, including four firefighters and one civilian, according to Cal Fire.
The condition of the injured civilian was not immediately known. The victim was reportedly airlifted to a local hospital burn center.
Some 1,000 firefighters from numerous agencies were on the fire lines. They were being aided by 13 helicopters, six air tankers and eight dozers.
Continued work by hand crews and dozers to build containment lines and clear the areas around homes was expected to be key, officials said.
Fire crews took advantage of cooler temperatures, high humidity and calm winds early Thursday to set backfires ahead of the main portion of the fire.
There was no immediate word on a possible cause of the fire.
An evacuation center was set up at Hemet High School, located at 41701 East Stetson Ave.
A second evacuation center was open at Beaumont High School at 39139 Cherry Valley Blvd.
Animals were being accepted at the San Jacinto Valley Animal Campus, located at 581 S. Grand Ave. in San Jacinto.
[protected-iframe id="33c2c831dce796395d660cb89f5305c1-41641936-49434793″ info="https://maps.google.com/maps/ms?msa=0&msid=216538011798332592768.0004e3640d25ad0343331&ie=UTF8&t=m&source=embed&ll=33.864714,-116.924744&spn=0.399112,0.75531&z=10&output=embed" width="550″ height="350″ frameborder="0″ scrolling="no"]
View SILVER FIRE: Points of interest in a larger map