This is an archived article and the information in the article may be outdated. Please look at the time stamp on the story to see when it was last updated.
Less than a year after supporters sent numerous pizzas to Hazel Hammersley's hospital room, tests showed no signs of cancer in the 3-year-old Simi Valley girl, her mother told KTLA on Sunday.
"Her scans were clear and said no evidence of disease, and that's the key term for us right now," Lauren Hammersley said. "We can't really claim cancer-free because we don't know, but we know there's no evidence of her disease."
Hammersley got the good news in the last two weeks, and posted about it on Our Little Hazelnut, a blog that documented Hazel's battle with a rare form of cancer.
"Since receiving the news, our family has of course been celebrating and treasuring each moment we have together," Hammersley stated in a Monday blog post. "However, it has been a bit of an emotional roller coaster."
Hazel, also known as Hazelnut, was first diagnosed with neuroblastoma in April 2013.
"Hazel is very communicative… and she was able to tell me that she had pain inside her abdomen and then the next day she stopped eating and was very lethargic," Hammersley told KTLA in 2013. "I just knew something was wrong, something more than just the flu, and I was very determined to get her to the doctor."
Although the family was glad to find out Hazel showed no signs of the disease, Hammersley stated that the battle was not yet over.
"The reality of childhood cancer does not just disappear with this news," she posted. "The next five years for Hazel are absolutely critical because this is the window that neuroblastoma likes to show its face again, which is why she continues on with scans and tests for so long."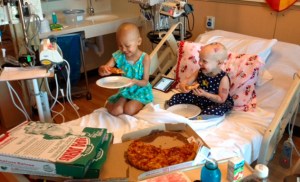 Hazel still faced two inpatient treatments, many potential side effects from her treatments, and a relapse rate of 35 to 60 percent, according to Hammersley.
"But once past that five-year mark, chances of relapse almost diminish and scans discontinue," she stated.
Side effects could include learning issues, vision problems, hearing loss, seizures, and loss of function in certain organs.
Hammersley said that loved ones and faith helped the family cope with the difficult diagnoses, but she knew she had to stay strong as a parent.
"When your child is sick, you do what you have to do each day," she said. "You wake up and you do it because otherwise your child won't get through it."
Hazel's story first made headlines in July 2013 when a photo of a hospital window that stated "SEND PIZZA RM 4112" circulated the Internet.
Hazel's mother and grandmother put up the message using hospital tape and were surprised when more than 20 pizzas were delivered to the Children's Hospital Los Angeles.
"Hazel woke up from her nap to the smell of pizza and was so excited to chow down," Hammersley stated at the time.
Correction: A previous version of this article gave the incorrect month of the pizza party. The story has been updated.