This is an archived article and the information in the article may be outdated. Please look at the time stamp on the story to see when it was last updated.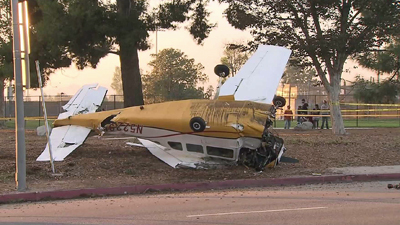 NORTHRIDGE, Calif. (KTLA) — Two people were hurt when a single-engine airplane lost power and crash-landed on a soccer field at Cal State Northridge Sunday.
The crash happened just after 3:00 p.m., and sparked a small fire that was quickly put out by firefighters from the Los Angeles Fire Department.
The Cessna 206 was inbound to Van Nuys Airport when it lost engine power, according to FAA investigators.
The plane's pilot had radioed that he was having engine trouble and tried to land on the soccer field. That's when he clipped a fence and hit a tree.
The pilot and passenger were able to walk away from the crash with minor injuries. No one on the ground was injured.
Two college students coming home from church rushed to the scene to rescue the two people onboard.
"I put the car in park, ran across the street with my friend, and there was another gentleman that ripped the door open… Just had to pull them out as fast as we could," said Good Samaritan Samaj Ray.
"We helped the lady get out," Erick Rodriguez recalled. "She's saying her legs are hurting and from there she's like, 'My husband!'"
"We go in and we get her husband and he has like blood gushing down his face," Rodriguez said.
Federal investigators say the plane was en route from Novato to Orange County at the time of the crash.