This is an archived article and the information in the article may be outdated. Please look at the time stamp on the story to see when it was last updated.
ZEPHYRHILLS, Fla. — Somewhere, someone is kicking themselves for being nice to a little old lady.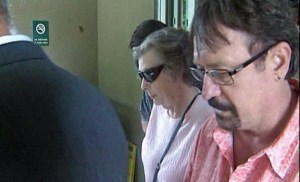 Gloria Mackenzie, 84, came forward to claim the second-largest U.S. lottery jackpot, more than two weeks after the $590.5 million Powerball drawing on May 18, Florida Lottery officials announced Wednesday. She passed up a payout spread over 30 years for a somewhat smaller one-time lump sum, pocketing $370.9 million before taxes, Lottery Secretary Cynthia O'Connell.
Mackenzie bought her winning ticket at a supermarket in Zephyrhills, north of Tampa. She did not appear at Wednesday's announcement, but in a statement O'Connell read to reporters, she said it was the fifth ticket she'd purchased for that drawing.
"While in line at Publix, another lottery player was kind enough to let me go ahead of them in line to purchase the winning quick-pick ticket," Mackenzie said.
Click here to read the full story on CNN.com.