This is an archived article and the information in the article may be outdated. Please look at the time stamp on the story to see when it was last updated.
A partial road closure remained in effect Saturday evening on a stretch of Topanga Canyon Boulevard in Woodland Hills (map) after a broken water main resulted in a large sinkhole on the street, authorities said.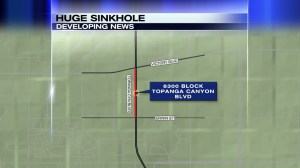 One southbound lane and one northbound lane were open on the street between Victory Boulevard and Oxnard Street as repair crews worked at the scene. The side of the street where the gaping hole was located was expected to remain closed until at least Sunday.
Water began to leak through a rusty four-inch hole in a cast-iron pipe about 9 a.m., officials said. The water undermined the street and then created the sinkhole.
The pipe had been installed in 1929, officials with the Los Angeles Department of Water and Power said. Given its age, the rupture was "not a surprise," DWP worker Roberto Galvez said. "It's lived its natural life."
The collapsed pavement was torn out with a jackhammer so that an asphalt coal patch could be laid over the hole.
By 3:30 p.m., the broken 8-inch pipe had been repaired and water was flowing again to a nearby shoe store, two office buildings and Roy's restaurant along the street.
The restaurant, at 6363 Topanga Canyon Boulevard, was reopened to customers at 5 p.m. after being closed during the day due to the water shutoff.
The Los Angeles Police Department's Topanga Station issued a statement at 5:23 p.m. indicating that other southbound lanes would be gradually reopened as crews finish work.