This is an archived article and the information in the article may be outdated. Please look at the time stamp on the story to see when it was last updated.
Safety concerns stemming from three recent accidents on the same Beverly Hills street, two of which killed Los Angeles Police Department officers, were discussed at a meeting involving city officials and residents looking for answers on Thursday.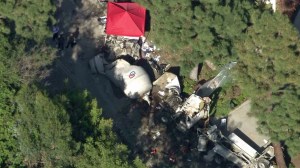 The latest crash occurred when a cement truck collided with a vehicle driven by off-duty LAPD Detective Ernest L. Allen Sr. in the 1000 block of Loma Vista Drive (map) on May 9.
Two months earlier, a collision on the same steep, curvy Beverly Hills street claimed the life of Officer Nicholas Lee. Lee was killed when the patrol car he was riding in was struck by an out-of-control dump truck on March 7. A female officer in the car with Lee and the driver of the truck were also injured in the crash.
A third, but non-fatal, crash occurred on May 2, when a cement truck lost control and overturned on the exact same street. The truck slammed into multiple parked vehicles before coming to a stop on its side. The driver was hospitalized in serious condition. No other injuries were reported in the incident.
All three crashes involved construction vehicles, prompting the City of Beverly Hills to place a 30-day moratorium on heavy traffic on Loma Vista Drive.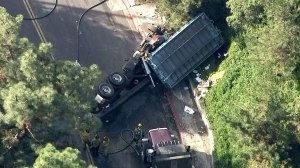 Possible long-term changes discussed during Thursday's meeting included daily vehicle inspections, police escorts, and raising permit costs, which a local contractor said he would be OK with.
"I think that's all fair, because the fact is the number one thing is safety. To make sure everybody is safe," said Reggie Sully of McCoy construction.
Any recommendations that result from the meeting were expected to be presented to the Beverly Hills City Council on May 20.