This is an archived article and the information in the article may be outdated. Please look at the time stamp on the story to see when it was last updated.
Police released a sketch Thursday in their search for a man who tried to abduct a child in Azusa earlier this week.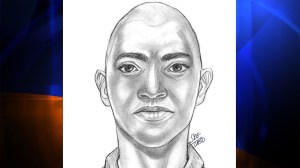 The incident was reported to police on Monday at about 8:30 p.m. after a man grabbed and attempted to kidnap a 5-year-old girl at an apartment complex in the 500 block of East Gladstone Street (map), the Azusa Police Department stated in a news release.
The girl's mother, Kimberly Hernandez, said she was watching her daughter play with a friend in the apartment complex when she went inside momentarily to put her 1-year-old to bed.
While she was upstairs, Hernandez heard one of the children screaming and immediately ran back down to check on them.
Hernandez saw a man pulling her daughter through the complex and ran to stop him, Azusa police Lt. Stephan Hunt said.
The man eventually let the girl go and fled from the complex, the Police Department stated in the news release.
The girl was not injured in the incident, but her mother said she was badly shaken.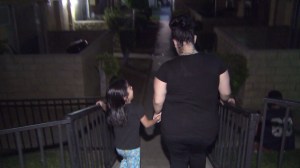 The attempted kidnapper was described as a Hispanic man about 5 feet 4 inches tall weighing 150 pounds.
He was bald, in his 20s, and was wearing blue jean shorts and a short sleeved white collared shirt with a blue and red stripe.
Anyone with information about the incident was asked to call Azusa police at 626-812-3200.
KTLA's Kennedy Ryan, Anthony Kurzweil and Wendy Burch contributed to this report.