This is an archived article and the information in the article may be outdated. Please look at the time stamp on the story to see when it was last updated.
The man killed in a mishap at a skydiving facility in Perris was identified Saturday as 29-year-old Jason Granger of Yuma, Arizona, authorities said.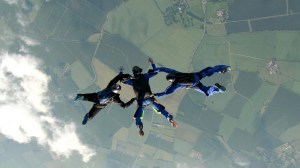 Granger suffered serious injuries after a hard landing Friday at Perris Valley Airport (map), according to the Riverside County Sheriff's Department.
The incident happened around 11:20 a.m. while Granger was skydiving at the popular facility.
He was transported to Menifee Valley Medical Center, where he was pronounced dead at 12:17 p.m., the sheriff's department said in a statement.
Granger was an Army skydiver who trained other jumpers, the Press-Enterprise reported.
There have been at least 15 deaths at the Perris Valley Airport skydiving facility in the past 13 years, according to the Press-Enterprise.