This is an archived article and the information in the article may be outdated. Please look at the time stamp on the story to see when it was last updated.
A small twin-engine plane crashed after landing at Santa Monica Airport on Sunday, authorities said.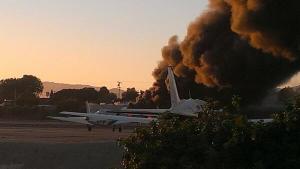 The Cessna Citation, which had departed from Hailey, Idaho, went off the right side of a runway and struck a hangar at 6:20 p.m., according to Ian Gregor, a Federal Aviation Administration spokesman. The hangar then collapsed.
Santa Monica firefighters and police responded to the scene in the 3000 block of Donald Douglas Loop.
"It was an unsurvivable crash," said Capt. John Nevandro of the Santa Monica Fire Department.
Firefighters were not immediately able to access the wreckage due to the collapse of the hangar, authorities said.
Santa Monica Fire Department officials said a large crane will be required to lift the hangar off the aircraft, according to Gregor. Firefighters do not expect to be able to reach the plane until sometime Monday.
It was not known how many people were on the plane, or whether anyone on the ground was struck.
https://www.facebook.com/photo.php?fbid=10151877216464614&set=a.440942949613.222741.72391084613&type=1