This is an archived article and the information in the article may be outdated. Please look at the time stamp on the story to see when it was last updated.
RANCHO PALOS VERDES, Calif. (KTLA) — A small plane used to tow aerial banner advertisements crashed on a Palos Verdes Peninsula beach shortly before noon Friday near a luxury golf course owned by Donald Trump, authorities said.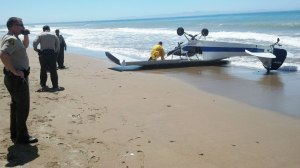 The pilot had only minor injuries, according to authorities, though the crash appeared dramatic. The small aircraft landed upside down at the water line, where the Pacific Ocean washes against the sand.
The pilot was alert and talking, according to a news release from the Los Angeles County Sheriff's Department's Lomita Station.
Both the Federal Aviation Administration and the National Transportation Safety Board were investigating, according to an email from an FAA spokesman.
The plane is a Piper PA-18 "Super Cub," FAA spokesman Allen Kenitzer said in the email. FAA online records show the fixed-wing single-engine plane was manufactured in 1953 and was used for aerial advertising.
The aircraft "came to rest inverted on a beach in Rancho Palos Verdes under unknown circumstances," Kenitzer wrote, stressing the information was preliminary.
The crash occurred at 11:42 a.m. at the beach at Portuguese Bend, near the northwestern edge of Trump National Golf Course.
"Initial reports are that the plane was towing an advertising banner," the sheriff's department news release stated.