This is an archived article and the information in the article may be outdated. Please look at the time stamp on the story to see when it was last updated.
A soap opera actress was charged Wednesday with assault with a deadly weapon after allegedly hurling a pint glass at another woman in a bar.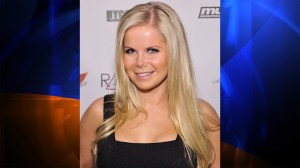 Crystal Hunt, 29, who was on "One Life to Live" and "Guiding Light," pleaded not guilty, according to the Los Angeles County District Attorney's Office.
Hunt allegedly assaulted a woman at a bar in West Hollywood on Dec. 13, leaving the victim with facial lacerations, according to the prosecutor.
Hunt's attorney told TMZ.com that the alleged victim instigated the fight, saying Hunt meant to throw her water at the woman but accidentally threw the whole glass.
Hunt faces five years in prison if convicted one count of assault with a deadly weapon, with a special allegation that she used the bar glass as a weapon.
The Sheriff's Department's West Hollywood Station was investigating.
Hunt was due to return to court on Feb. 24.