This is an archived article and the information in the article may be outdated. Please look at the time stamp on the story to see when it was last updated.
SAN ONOFRE, Calif. (KTLA) — Southern California Edison announced plans on Friday to shut down the troubled San Onofre nuclear power plant.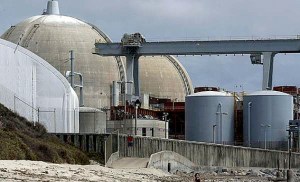 SCE planned to permanently retire Units 2 and 3 at the San Onofre Nuclear Generating Station (SONGS), the utility said in a news release.
Unit 2 was taken out of service on January 9, 2012, for a planned routine outage.
Shortly thereafter, Unit 3 was taken offline on January 31, 2012, after a small leak was detected in a tube inside a steam generator.
Unexpected wear was found in the metal tubing that carries radioactive water in all four of the plant's steam generators, two for each reactor.
SCE cited uncertainty surrounding a proposal to restart Unit 2, as well as costs, as the reasons for its decision.
It submitted a plan to the Nuclear Regulatory Commission (NRC) in October 2012 to restart Unit 2 at 70 percent capacity for an initial period of five months.
That plan has been under review ever since, and several public meetings have been held on the matter.
However, a recent ruling by an arm of the NRC created further uncertainty about when a decision would be made on the restart plan, SCE officials said.
Additional administrative processes and appeals could result in delay of more than a year, according to SCE.
During that time, the costs of maintaining San Onofre and the costs to replace the power it previously provided would continue.
The company decided that the continuing uncertainty was not good for customers or investors, Edison International Chairman and CEO Ted Carver said.
"SCE has concluded that efforts are better focused on planning for the replacement generation and transmission resources which will be required for grid reliability," according to the news release.
SCE anticipated reducing staff at San Onofre from about 1,500 to 400 employees over the next year.
The majority of the staffing reductions were expected to occur in 2013.
The company promised to work with the relevant unions to ensure a "fair process" for the transition.
San Onofre is jointly owned by SCE (78.21 percent), San Diego Gas & Electric (20 percent) and the city of Riverside (1.79 percent).