This is an archived article and the information in the article may be outdated. Please look at the time stamp on the story to see when it was last updated.
As mourning continued for the six students killed during a violent rampage in Isla Vista, members of the grieving University of California community were banding together and planning to hold candlelight vigils throughout the week to honor the victims.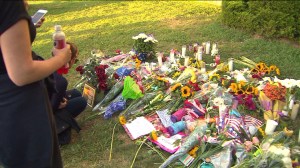 Monday night vigils were expected to get underway at 8 p.m. at UCLA, UC San Diego and UC Santa Cruz, according to separate Facebook posts.
"Please join us in remembering the tragic loss that has affected the lives of so many of our friends. As students of the University of California, we stand in support of those on our sister campus," the Facebook page for the UCLA vigil stated. "Let us take this opportunity to stand even closer together and recognize the bonds within our community."
As of Monday morning, more than 2,600 people RSVP'd that they would be attending the UCLA event, while nearly 2,000 Facebook users said they would be going to the one at UC San Diego.
Another memorial was being held Monday night at Westlake High School for shooting victim Veronika Weiss, 19, who graduated from the school last year. It was also set to begin at 8 p.m.
On Tuesday, a candlelight vigil was scheduled at UC Irvine, with at least 2,200 people expected to attend, according to the Facebook event page. And nearly 1,500 had RSVP'd "yes" to Wednesday's planned memorial at UC Riverside. A vigil was also being held Thursday at UC Davis.
"Our hearts, prayers and minds go out to UCSB, the victims of the shooting and the families affected," a post on the UC Riverside Facebook page stated.
At UC Santa Barbara, where all six of the victims had been students, a "week of solidarity" beginning on Monday and ending Friday was being planned to honor the victims and begin the process of healing.
The week-long event, which included a memorial on Tuesday, followed Saturday's candlelight vigil in Storke Plaza that was attended by several thousand UCSB students saddened and shocked by the sudden deaths of their fellow classmates.
The Santa Barbara County Sheriff's Office identified the victims as: Weiss, Katie Cooper, 22, Chris Martinez, 20, Cheng Yuan Hong, 20, George Chen, 19, and Weihan Wang, 20.
Weiss, Cooper and Martinez all died after being shot by the alleged attacker, 22-year-old Elliot Rodger, during a shooting spree that occurred at various locations, according to the Sheriff's Office. Cooper and Weiss died outside a sorority house, while Martinez was shot and killed at the I.V. Deli Mart.
Large memorials with flowers, candles signs and pictures paying tribute to the victims were visible outside both locations on Monday. At the deli, flowers of purple, pink, red and white were also wedged into holes where bullets had pierced and slightly shattered the windows.
Prior to the mass shooting, Rodger allegedly stabbed his roommates, Hong and Chen, at their apartment located in the 6500 block of Seville Road (map), according to authorities. Wang, who was also found with multiple stab wounds inside the apartment, was believed to have been visiting at the time, a law enforcement source told CNN. The source also told CNN that the men might have been stabbed while they were asleep.
Rodger, who was a student at nearby Santa Barbara City College, was later found dead in his black BMW from an apparent self-inflicted gunshot wound to the head, according to Sheriff Bill Brown.
Five people also remained hospitalized as of Monday, with three victims in fair condition and two others in good condition, a nursing supervisor at Santa Barbara Cottage Hospital said.
Meanwhile, in an emotional interview that aired on CNN, the grief-stricken father of shooting victim Chris Martinez mourned the loss of his only child.
"I'm 61 years old now. I'll never have another child, and he's gone," Richard Martinez said.
Martinez went on to chastise Congress for failing to pass gun control legislation in the aftermath of the mass shooting at Sandy Hook Elementary School. The school shooting, which occurred in Newtown, Conn. in December 2012, claimed the lives of 20 first-graders and six adults, and led to a push for stricter gun controls which ultimately failed last year in Washington, D.C.
An anguished Richard Martinez said he blamed Congress for failing to take action after Sandy Hook.
"Where the hell is the leadership? Where the hell are these people we elected to Congress that we spend so much money on? These people are getting rich sitting in Congress. And what do they do? They don't take care of our kids," Martinez said, his voice rising. "My kid died because nobody responded to what occurred at Sandy Hook. Those parents lost little kids!"
Angry and choking back tears, Martinez continued, telling CNN, "It's bad enough that I lost my 20-year-old, but I had 20 years with my son! That's all I'll ever have. But those people lost their children at 6 and 7-years-old!… Who is standing up for those kids who died back then, in elementary school? Why wasn't something done? It's outrageous!"
Still, even as the shooting reignited the heated debate over gun control in the U.S., other said they didn't need an explanation to understand why the tragic shooting occurred.
"It's, unfortunately, a very sad situation that no explanation can ever justify," Ryan Booth, the manager of the I.V. Deli Mart told CNN. "As a community we have to be strong and stand up and try and move on."
KTLA's Ashley Soley-Cerro and Eric Spillman contributed to this report.