This is an archived article and the information in the article may be outdated. Please look at the time stamp on the story to see when it was last updated.
IRVINE, Calif. (KTLA) — A local soccer coach has been charged with three felony counts of lewd acts on a child in connection with an alleged relationship with a 15-year-old female player.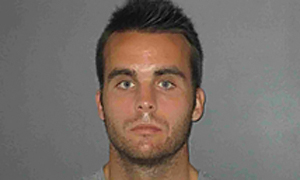 Ian M. Ebert, 26, was arrested on Thursday in Los Gatos, where he now lives.
At the time of the alleged crimes, he was a coach for the Strikers FC of Irvine, a private soccer club, according to Irvine police.
The investigation began on Monday after a high school counselor received information about an inappropriate relationship between an adult and a female student.
The counselor notified police, as well as the school district and the girl's parents.
According to police, the inappropriate contact happened between August 2012 and December 2012, while Ebert was living in Irvine and working for the club.
Police said Ebert and the alleged victim had intermittent contact because of her participation in club soccer.
Ebert also was as a coach for Irvine Unified School District at two campuses between 2009 and 2012, police said.
According to the Strikers website, Ebert was the JV Boys coach at Woodbridge High from 2009 to 2010 and the the Boys Varsity coach at University High.