This is an archived article and the information in the article may be outdated. Please look at the time stamp on the story to see when it was last updated.
A 29-year-old Army soldier secretly returned to New Jersey from Afghanistan for the holidays and surprised his mother at her work's Christmas party dressed up as Santa Claus.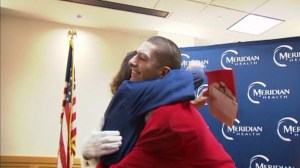 Leslie Ruggiero, a nurse in a maternity ward, was presented with a letter from her son during the hospital's holiday party, video from the event showed.
"It's from my baby," she said, tearing up.
Ruggiero, who believed her son was still in Afghanistan, got emotional as she read the letter.
"And where is he?" another person at the party asked.
"Afghanistan," she responded.
Little did she know that her son was standing right behind her, dressed in a Santa costume that he had rented for the occasion.
As his mother read the letter, Todd Ruggiero began taking off the Santa hat, hair and beard. After several moments, his mother turned around and noticed her son.
The room erupted in cheers and applause as the pair embraced.
"Christmas for me is family," Leslie Ruggiero said through tears following the reunion. "So this changes everything for me."