This is an archived article and the information in the article may be outdated. Please look at the time stamp on the story to see when it was last updated.
Controversy over so-called "fat letters" has led to proposed legislation in Massachusetts to ban body-mass-index programs that screen students for obesity and send the results to parents.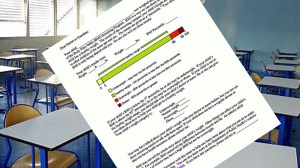 The letters are put in sealed envelopes, similar to a report card, and given to every child to take to their parents, according to school officials.
Some experts have expressed concerns about the potential for kids who may already be insecure about their weight to develop eating disorders.
"More than 40 percent of 9- and 10-year-old girls have already been on a diet. As many as 60 percent of all children between the ages of 6 and 12 years old are worried about their weight, according to Duke University," Yahoo! News posted in a report.
California and 19 other states have school districts that send these reports home with students.
The measurements are taken through either BMI surveillance or BMI screening.
"Over one-third of the children and teens in this country are overweight or obese," Dr. Tanya Altmann, a pediatrician from Westlake Village and spokeswoman for the American Academy of Pediatrics said.
"These children are at risk for high cholesterol, diabetes, heart problems, numerous medical and health issues," Altmann said.
The intention of sending the letters was to get families to visit their doctor who can provide them with education and resources, according to Altmann.