This is an archived article and the information in the article may be outdated. Please look at the time stamp on the story to see when it was last updated.
Investigators were working Sunday to determine the cause of a house fire in South L.A. that left one man dead, according to the Los Angeles Fire Department.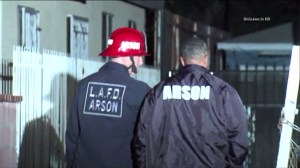 Firefighters responded after a blaze broke out at a single-story home in the 300 block of East 106th Street around 10:40 p.m. Saturday, LAFD spokeswoman Katherine Main said.
A witness said he saw flames coming out of the home's windows, chimney and back door.
Fire crews were able to extinguish the flames in about 9 minutes, but an unidentified adult man in his mid-20s died in the fire, according to authorities.
"It wasn't very large, but it was substantial enough to cause damage inside, and unfortunately it took the life of the individual inside the home." said David Liske, a senior arson investigator with the LAFD.
The man was the 13th person to die in a fire this year in L.A., according to LAFD Capt. Jaime Moore.
Investigators have classified the death as "suspicious," according to Jaime Moore.
"We list it as suspicious until we have determination to lead us one way or the other. So it's very common for us to be working with the Los Angeles Police Department detectives on cases like this," Moore said. "Our arson investigators canvas through all of the information that they have, and kind of get an idea of what exactly may have caused this fire."
Smoke detectors were present at the home, but it was unknown if they were working.
Fire safety information, smoke alarms and batteries would be distributed to residents in the area on Sunday, according to a post on the LAFD's blog.
KTLA's Erin Myers contributed to this report.