This is an archived article and the information in the article may be outdated. Please look at the time stamp on the story to see when it was last updated.
An hourslong standoff in Norwalk came to an end with two people in custody, the Los Angeles County Sheriff's Department said on Wednesday morning.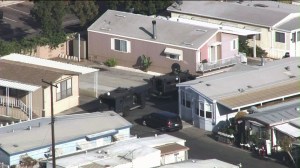 The incident began around 4:15 p.m. on Tuesday as U.S. Marshals were attempting to serve a warrant at a residence in the 12000 block of Rosecrans Avenue, Deputy Pedro Guerrero with the Norwalk Sheriff's station said.
The marshals were tracking a 38-year-old man sought in multiple robberies in several cities including Pomona, according to Pomona police Sgt. Marcus Perez.
When the officers approached the residence, a man wearing a bullet-proof vest pointed a rifle at them and then ran back inside, according to a news release from the Los Angeles County Sheriff's Department.
There was also confirmation that another male adult was inside the residence, the release stated.
During the standoff, Rosecrans was closed at Bloomfield Avenue near Interstate 5 and evacuations were underway in the area, according to a tweet from the California Highway Patrol.
Evacuees were sent to Thomas B. Moffitt Elementary School on Goller Avenue in Norwalk, authorities said.
The two people were arrested shortly before 11 p.m., according to the Sheriff's Department.