This is an archived article and the information in the article may be outdated. Please look at the time stamp on the story to see when it was last updated.
Nearly a week after he pleaded not guilty to corruption charges, State Sen. Ron Calderon announced Sunday night that he would be voluntarily taking a leave of absence from legislative duties.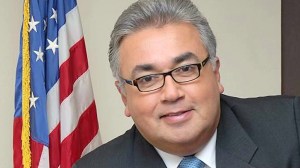 "This is not a resignation since I still have my day in court," Calderon, 56, said in an emailed statement. "However, due to the nature and complexity of the charges, and the discovery materials that I will have to review, I expect this to be a lengthy period of absence continuing until the end of the session in August."
He added that he would use the time off to fight the charges against him.
"I do not want to distract from the important work of the Senate and my colleagues on serious issues affecting my constituents and the people of California," he said.
Calderon, a Democrat who represents California's 30th District, has been indicted on 24 counts of corruption charges, including fraud, wire fraud, bribery, money laundering and aiding in the filing of false tax returns, the Los Angeles Times reported.
"This is just the first step in a long process of seeking out justice for corrupt politicians and officials that would facilitate corruption," Assistant U.S. Attorney Mack Jenkins said after Calderon pleaded not guilty to the charges in federal court last Monday. 
But Mark Geragos, Calderon's attorney, maintained his client's innocence following the court appearance.
"We caution everybody, however, that there still is a presumption of innocence in this country, before everyone jumps on the bandwagon of pillorying him," Geragos said.
Calderon was out on $50,000 bond, according to authorities.
His trial was set to begin on April 22.
If convicted on all charges, Calderon faces a potential maximum sentence of 400 years in prison.