This is an archived article and the information in the article may be outdated. Please look at the time stamp on the story to see when it was last updated.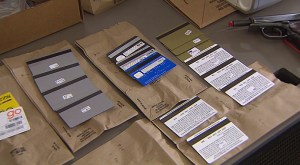 GLENDALE, Calif. (KTLA) — Police arrested six people Tuesday in connection with a series of identity thefts involving the use of credit card skimming devices that could have targeted millions of unsuspecting motorists.
During a series of raids Tuesday, detectives searched nine locations, including homes and apartments in Glendale, the San Fernando Valley and the Los Angeles area.
Investigators seized credit card skimmers, computers, components to en-code blank cards, guns, methamphetamine, marijuana, approximately $60,000 in cash and two trucks holding bladder tanks to purchase gas at stations with the re-encoded cards stolen from victims, according to a news release from the Glendale Police Dept.
The suspects, identified as Edgar Alaverdyan, Karen Nazaryan, Serob Yegoyan, Edvard Martirosyan, Levon Mkrtchian and Emil Morkus, allegedly installed credit card skimming devices onto gasoline pumps, stealing victims' credit card information, the news release stated.
The group then allegedly manufactured new cards and re-coded them with the victims' stolen information.
The men used the cards to buy gas that was sold to a local trucking company for half its value, police said.
The suspects were arrested on suspicion of identity theft, possession of access card information and conspiracy.
Three other suspects, Hratch Keyo, Vachik Babayan and David Yezgatyan, were still being sought.